The Year in Review - 2007
I wanted to wish everyone a Happy New Year. I'm finally getting around to writing up my "Year in Review." I think this is only the second year I've done this, but it gives me a chance to look back at yesteryear.
Concerts
The big news this year in the concert department was I got to see Rush and the Police. The former I've seen many times, but the latter was something I never thought would happen.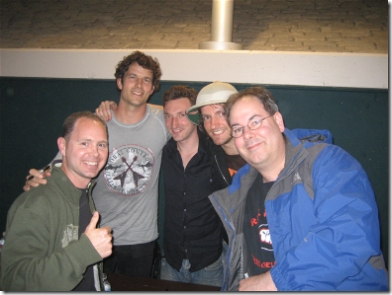 The Police stopped by Seattle for two sold-out concerts on June 6 and 7. I went to both shows. The second one was by far the best. Plus the opening band became one of my new favorites, Fiction Plane, fronted by Sting's son, Joe Sumner. Read my full review of the two Police shows.
For Rush, I saw them on two different legs of their successful Snakes & Arrows tour. The first two shows were in Washington, one at the White River amphitheater and one at Clark County Amphitheater. I took my seven-year-old son to both (he fell asleep at the second show).
Then I did something a little crazy in September: I flew with my friend MonicaZ to Toronto to see Rush twice in their home city and also in the Canadian capital Ottawa. The last show in Toronto was perhaps the best Rush show I've ever seen. It was also great to travel through Toronto and around western New York for the first time.
Finally, I saw Porcupine Tree at a sold-out show at the Showbox in downtown Seattle. This is a band I'll continue to watch.
Chris Mess
The band I play with, Chris Mess, continued to play shows around Seattle. We did a particularly fun show at the Skylark on Halloween, where we played as Cheap Trick or Treat. Here are the shows we did this year:
Halloween, Oct 31 - The Skylark with the following bands (read the official blog by Chris Mess)
8pm Strange Jerome as Bob Dylan
8pm Justin Phillips as John Lennon
8pm Peter Karis as Jeff Buckley
8pm Willow as Concrete Blonde
9pm Speedmop as The Sonics
9pm Aunt Jamama's Big Band Vigilantes as The Misfits
9pm The Hot Rollers as Quiet Riot
9pm Perish the Island (Luna Moth/Tableland members) as Angelo Badalamenti
10pm CHRIS MESS as CHEAP TRICK OR TREAT
10pm Blue Light Curtain as The Velvet Underground
10pm H is For Hellgate/Another Perfect Crime as Sleater-Kinney
Chris and I have recently recorded a bunch of new songs that you can listen to on my Chris Mess page.
My new favorite local band is Megasapien, with whom we played at the Skylark. Keep an eye on these guys.
Travels
This year, as I've already mentioned in the Concerts section, I made it to the East Coast to see Rush. As part of that trip, I saw Niagara Falls, Toronto, the outskirts of Ottawa, Buffalo, NY, and the amazing countryside between Ottawa and Toronto. You can read my entire travel blog here.
I also made an annual trips with my family to Manzanita and Lake Chelan, two of my favorite places.
Politics
The year before the presidential election has proved to be contentious. I've seen a few of the candidates in person, who have stopped at my company. So far, the most impressive was Hillary Clinton (read my blog entry about Hillary here). Bill Richardson, Governor of New Mexico, was also a knowledgeable speaker and a good candidate. But, as Governor Richardson himself acknowledged, he's not quite the rock stars as Clinton or Obama.
On the Republican side, I saw Rudy Guiliani, who disappointed and annoyed me. Guiliani started off by telling his audience that the country is going in the right direction. So, if you like what GW has done for America, vote for Mr. Guiliani. You'll get more of the same.
At the time of this writing (Jan 11, 2008), he hasn't fared too well in the caucuses in Iowa and New Hampshire, which isn't surprising.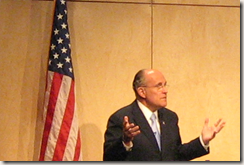 In addition, I saw one of Hillary's top advisors, Mark Penn, speak. He was talking about his new book Microtrends, which is all about how small groups of people can add up to be a significant voice (or vote, if you're Hillary). Mr. Penn came up with the now-famous group "soccer moms."
I also got a chance to see Michael Beschloss, presidential historian and TV commentator. I had read his book The Conquerors, and I bought his new book, Presidential Courage. The first chapter about George Washington is amazing.
On the local side of politics, I had a chance to see Governor Chris Gregoire in a small group setting. Diminutive in size, she is a powerful, passionate speaker whose command of the facts is startling. She seemed to know just about everything going on in Washington State. Like Hillary, Governor Gregoire doesn't always come across well on TV, which is one of the reasons I think she had problems against Dino Rossi in 2004, who is much smoother in debates. Rossi is running again this year on the Republican ticket, but I don't think he'll fare as well now that Gregoire has shown what she can do as Governor.
Film
From what I've been reading, 2007 is being regarded as a stellar year for cinema. Of all the films I've seen (and I don't get to see a lot in the theater, since I have two kids), here are the ones I enjoyed the most, in order of their box office rank:
Shrek the Third
Transformers
Harry Potter and the Order of the Phoenix
I Am Legend
300
Ratatouille
Knocked Up
Live Free or Die Hard
American Gangster
Superbad
Ocean's Thirteen
Bridge to Tarabithia
Disturbia
Surf's Up
Juno
Charlie Wilson's War
3:10 to Yuma
Zodiac
The Water Horse: Legend of the Deep
Becoming Jane
Eastern Promises
If I had to pick 5 that I thought were the best of the best, they would be:
Juno
American Gangster
Knocked Up
3:10 to Yuma
Zodiac
Other movies from 2007 that I want to see (any of which could knock movies out of my Top 5):
The Diving Bell and the Butterfly
There Will Be Blood
No Country for Old Men
Persepolis
No End in Sight
Once
The Bourne Ultimatum
The Host
In the Shadow of the Moon
Atonement
The Great Debaters
Michael Clayton
Across the Universe
Sweeney Todd
Before the Devil Knows Your Dead
The Kite Runner
Away from Her
Into the Wild
I'm Not There
In the Valley of Elah
Rendition
Romance and Cigarettes
Starting Out in Evening
Talk to Me
Labels: Year in review
posted by AndyO @ 7:38 PM
0 comments