Bad Ad: Mortgage dancers routinely ruin my day
You've probably seen them. You go to a webpage and suddenly you see a flicker of movement out of the corner of your eye. Your attention is sucked into the vortex of the mortgage dancers. You try to look away, but you can't. You might as well shut down your computer.
The mortgage dancer ads are everywhere on the Internet and have been for a while. If you're like me, you probably hate them, but also know they have the ability to hypnotize you. By the time you wake up, five minutes have passed... maybe more.
I thought I'd list a few of the mortgage dancer ads from LowerMyBills.com with some commentary.
What do you think of the Mortgage Dancers?
Exhibit #1: Dancing women celebrate affordable mortgage payments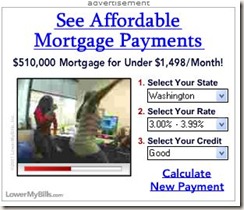 The first time I saw this ad, I was a bit mesmerized. My favorite part was the way the woman closest to the camera raised her hands to her mouth as if to say, "Mercy!" I'm not sure if that gesture is in relation to the affordable mortgage payments or her dance moves.
Note how Washington (probably being picked up by my IP address) is already pre-selected in the first drop-down box (pretty sneaky). Note how it appears you can calculate a new payment right here on the ad (you can't -- I tried).
Exhibit #2: Dancing green alien celebrates falling mortgage rates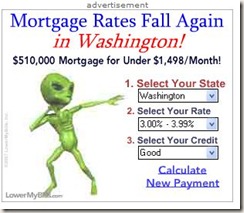 The hip dancers have been replaced with an alien, whose moves bring to mind the dancing baby of the 90s that I also found hypnotic, but also kind of creepy.
Notice how Washington is now part of the headline, and it appears you can calculate your new payment right in the ad (you still can't do this).
Check out the mortgage rate: $510,000 for under $1,498/month. I took this screenshot a while ago -- long before the housing crisis came into the focus for the national media.
Exhibit #3: Dancing lady in a tank top celebrates a new housing bill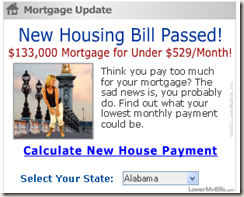 They must have figured out the alien creeped people out, because they're back to good old sex appear -- a lady dancing on a bridge.
The mortgage is now $133,000 for under $529/month. If we compared this to the last ad, you'd only be getting a $399,000 mortgage for around $1,500/month. This is due to the housing credit problem, or it's using a different default mortgage ratio.Either way, I'm annoyed.
Exhibit #4: Dancing lady celebrates a 2% fund rate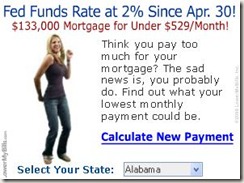 Yep, they brought back a dancing woman. This time there's no background to distract us. Rates haven't changed, since this was taken around the same time as the last ad.
----------------------
In researching my disdain for these ads I realized that (as usual) I'm late to the party. Here are some other blogs and stories about LowerMyBills.
On Adverlicio.us.com, I found a few other LowerMyBills dancer ads that I remembered, but didn't capture at the time.
Dancing Santa

Jive-dancing woman in gray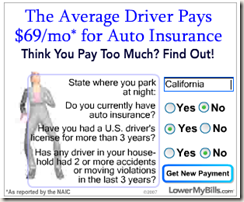 First-pumping dancer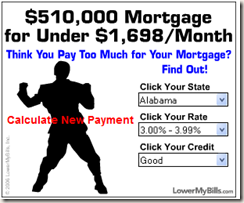 Dancing cowboys

Moon dancers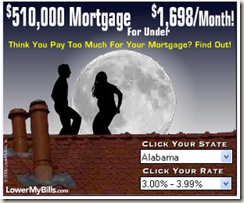 posted by AndyO @ 12:31 AM
13 comments