Seattle to Maui - Day 1 - Friday
I started the day at 5:30 a.m., a completely alien time of the day for me. When I get up this early, I usually feel nauseas and disoriented -- but today I felt fine. Brenda and I roused Cameron and Drew at 5:45, and my brother Erik came to pick us up at 6:00.
When we met Erik at the door, he said, "Do you guys have any enemies in the neighborhood?" When we asked why, he showed us that someone had placed screws under our car's back right tire. I thought it was probably some kids thinking they were funny. But the more I thought about someone doing this, the more I was perplexed (and concerned).
Not the way you want to start a trip to Hawaii.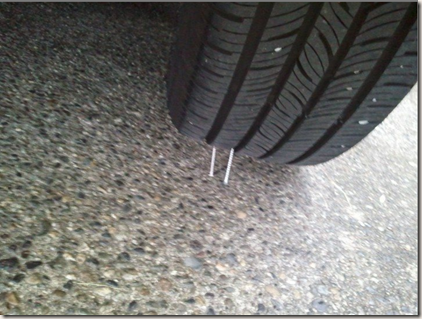 The Airport
The airport experience included the usual waiting in lines, getting body scanned, and eating crappy food. Both boys were pretty anxious about flying, so they were both fighting a lot. My favorite fight was when we got to the security checkpoint and Drew started yelling at Cameron.
Not the way you want to start your vacation to Hawaii.
And then Brenda got randomly selected for some kind of chemical test. It didn't take long, which was good.
By the time we were done with security, I was exhausted.
The Flight
I don't know what was going on, but Cameron and Drew decided to fight for at least half the flight. We rented two digEplayers, which helped for a while -- but then they didn't want to watch anything (Cam would only play Angry Birds on my Windows Phone). Most of the time, they complained about everything and asked when were going to get to Maui. When you're on a 5-1/2 hour flight, it can never be soon enough.
Here they are before the fighting started: Drew (left) and Cameron (right):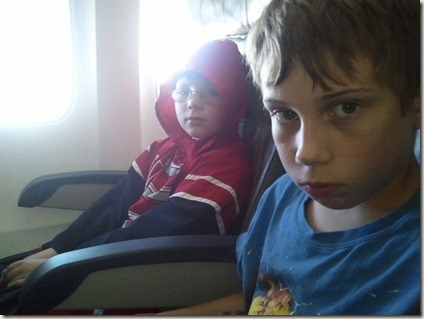 Other highlights of the flight:
Spilling Sprite on my crotch
Buying Wi-Fi access only to learn it doesn't work over water. (Would have been nice to know before I bought it.)
Trying to watch the movie "Unknown" on the digEplayer while being interrupted by Cam and Drew every 2 minutes. Never got to finish it.
Brenda not feeling well for much of the flight (she sat across the aisle from me)
The rollercoaster ride as we started our final descent into Maui (why do people always scream when this happens?)
Arriving in Maui
After picking up the rental mini van, we headed to Costco to do some shopping. We're staying in Kihei for 10 days, so Costco made the most sense -- especially considering how much more expensive food is here.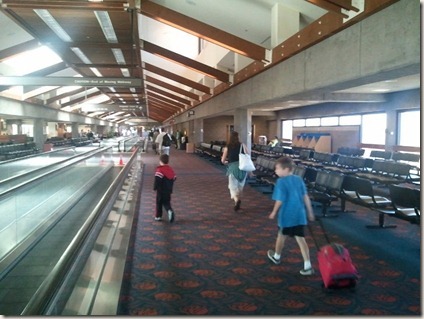 Now, I knew it would be hot in Maui, but I wasn't prepared for the blasting wind. It was blowing 30-40 miles per hour, which made it feel like we were living inside a hair dryer.
Because I was really hot inside our mini van, while we were at a light I asked to have some of Cameron's Coke that he got at Costco. When I opened the bottle, it blew up in my hands -- and for the second time in a day I spilled soda on my crotch.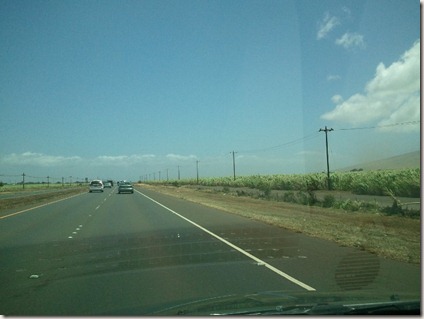 Getting to the condo
Brenda did a lot of research and found a great condo to rent in Kihei called Koa Lagoon. Check out the view: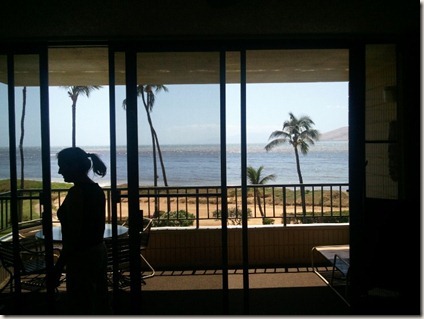 After putting away all the food, we went swimming at the pool and then ate dinner. Around 7:00, we watched the sunset. Sunsets (and sunrises) are always spectacular in Hawaii. Here's what it looked like from our third floor deck: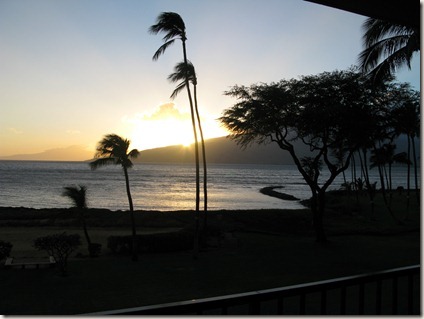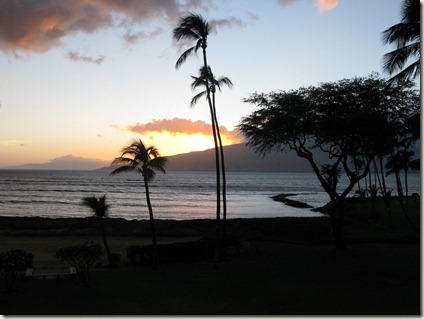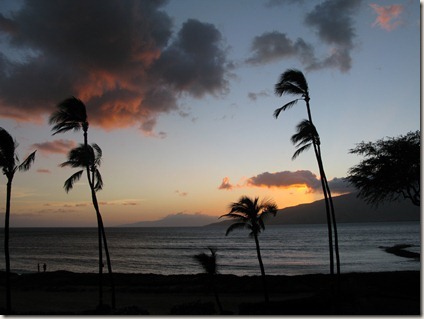 In this picture, the sun almost seems to be setting the cloud on fire (you can also see a row of wind turbines along the upper spine of the mountain):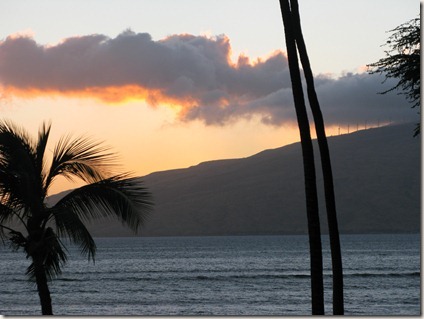 We went to bed around 8:30, given that we're still three hours ahead -- and we wanted to get up early, since that's when the wind isn't blowing in Maui.
Labels: Maui 2011
posted by AndyO @ 12:13 AM
0 comments