North Cascades Highway to Winthrop (Thursday)
This was day 1 at Sun Mountain lodge in Winthrop, WA, 7/23/09. Read Day 1 here.
On Thursday, we drove to Winthrop Washington for a conference for Brenda at Sun Mountain Lodge. Our route took us 200 miles on the winding North Cascades highway through lush forests -- and the occasional town or gas station -- ascending into some of the most beautiful alpine scenery in the United States.
When we stopped at a bathroom for Brenda and Drew, I saw a group of teenage hikers getting their gear together. I asked where they were going, and one of them told me "five days in the Cascades."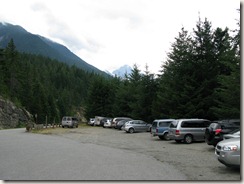 Unfortunately, Drew fell down as he ran back to the car, and Brenda and I had to bandage him up.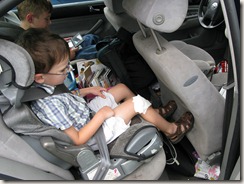 As we drove on, Drew was inconsolable, complaining about the bandage we'd put on his leg. He told us we were going to have to carry him everywhere -- and at one point demanded that we turn around and go back to Seattle. He finally stopped crying when Cameron let him draw on his Nintendo DSi.
Then came my favorite part of this journey: a 180-degree turn that signals the descent into the Methow Valley. The grade is so steep, we continued driving along at 75 mph without any gas for 10 miles. It's probably the closest I'll get to flying an airplane.
We finally made it to Winthrop by 5:00 p.m. It's always interesting to see Winthrop's wooden sidewalks and Old West architecture. We then drove along a winding, 10-mile mountain road to our final destination: Sun Mountain Lodge. The brochure says it's the only Triple-A rated Four Diamond hotel in Washington (for 15 years straight).

There are few hotels that match the spectacular views you get here.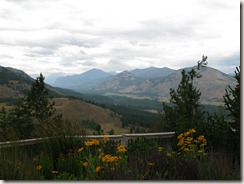 posted by AndyO @ 10:41 PM
0 comments