Kauai - Last Day (Tuesday)
Today is our last day in Kauai. Tomorrow, we board a plane and island hop from Kauai to Oahu to Hawaii, where we'll stay for another week. My parents are flying home on Wednesday.
Even after a full week and seeing so much, there are still more places I want to visit and things I want to do. This is my second visit to Kauai, and I can see why it calls people back.
As usual, I wasn't able to keep up on my daily blog. I guess I was too busy doing things and relaxing. But I'll be filling in these days in the next week or so. Until then, I'll leave you with an amazing view of the Napali Coast, on the west side of Kauai, which we visited on Friday.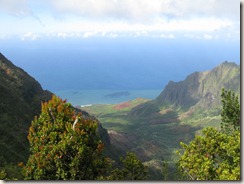 Labels: Hawaii, Hawaii 2009, Travels, Vacation
posted by AndyO @ 12:35 AM
0 comments