Summer Getaway - Orcas - Day 1 - Rosario Mansion
After eating dinner, we walked over and toured Rosario mansion, which has a fascinating story. The mansion was built by a man named Robert Moran as his retirement home. Before that, Robert Moran had been one of Seattle's great industrialists.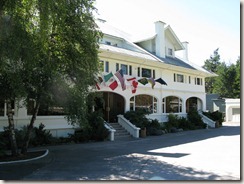 Robert Moran - Shipbuilder, Mayor, Businessman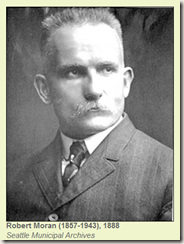 In 1875, Moran came to Seattle by way of New York City, with only 10 cents in his pocket. Soon he found a job as a ship's engineer, and through hard work built a marine repair business on the Seattle wharf with his brothers.
Moran also experienced success in politics, becoming mayor of Seattle in 1888. In 1889, with just a month left in his mayoral term (mayors served only one year at this time), the "Great Seattle Fire" destroyed much of Seattle's downtown business district. Moran's leadership helped Seattle recover -- and even prosper -- from the disaster and helped win his re-election. A sign in the mansion reads, "Over a six-month period after the fire, with businesses operating out of tents, the population of Seattle doubled."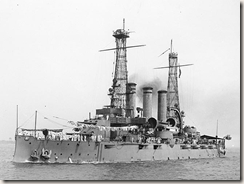 The fire had also destroyed Moran's own company, but he used it as an opportunity to move his business location. The Moran Brothers were back in business quickly and helped in the rebuilding of Seattle.
In the mid-1890s, the Moran Brothers branched out into shipbuilding, and built many ships for the Klondike Gold Rush. But their greatest achievement was the U.S.S. Nebraska, the flagship of the U.S. Navy's "Great White Fleet."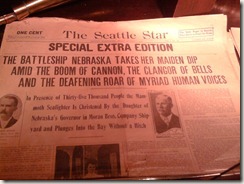 All the years of hard work and stress took their toll, and Moran collapsed from exhaustion. The prognosis wasn't good. He was told by his doctors he only had a year or so to live. Hearing this news, he sold his ship building company and retired to Orcas Island.
This is when Moran's true life's work began. He would live not one or two more years -- but another 38, defying his doctors' predictions. (If he'd kept running his shipbuilding company, he probably would have proved his doctors right.)
A new beginning
When Moran arrived on Orcas Island, he set out to build a mansion equal to any ship he'd ever built. The design of the mansion was based on The Arts and Crafts movement, which, according to the Rosario Resort website:
… had emerged as a revolt to the industrial revolution from a humanist perspective. The shift of labor from man to machine had robbed craftsmen of the pleasure of seeing their work through from conception to completion, as the traditional values of quality and beauty were being replaced by economy and profit.
Walking through the second floor, and the spa downstairs, reminded me of pictures I'd seen of the Titanic's interior -- with all the beautiful woodwork, stained glass, and attention to detail.
Again, from the Rosario website:
Moran's dedication to the Arts and Crafts mindset is evident throughout the mansion with its rich mahogany paneling, earthen tone tiles, stain glass lighting, and unique fireplace hearths. Centerpiece of the mansion is the Music Room, featuring a two story 1913 Aeolian pipe organ, 1900 Steinway grand piano, a Belgian stain-glass window picturing the harbor at Antwerp, and two mezzanine libraries overlooking a Tiffany chandelier, which depicts various performing arts.
As I walked through the rooms, I could feel Moran's presence everywhere. Here was a man dreamed big, who cared about every detail -- and who obviously spared no expense.
Panoramic view of the music room: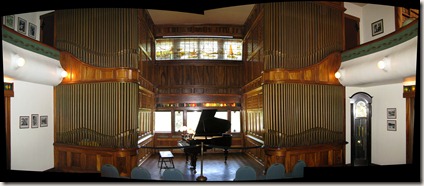 Panoramic view from the piano, looking back:

Close-up of the stained glass in the music room depicting the harbor in Antwerp, Belgium: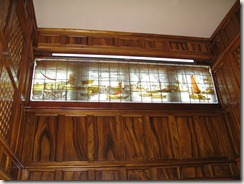 Close up of tile work above the mantle depicting sailing ships: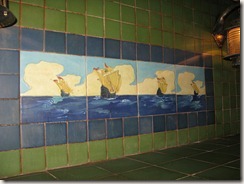 I even read that Moran designed and built a new hinge for the doors that wouldn't squeak. I tried a few of them, and they still worked without a sound.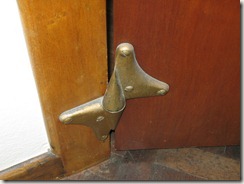 After we returned to our room, I looked across the bay to the mansion; I was eerily reminded of the Titanic plying the Atlantic waters on that calm night long ago. While the Titanic, as well as the ships that Moran built, was gone, the Rosario Mansion remains.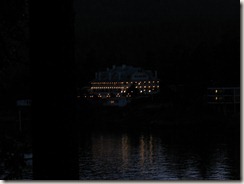 For more about Robert Moran, see the following links, which I used to write this entry:
Wikipedia Article on Robert Moran
Washington State History: a biographical sketch of Robert Moran
Labels: History, Orcas Island, Travels, Vacation, Washington State
posted by AndyO @ 11:28 PM
0 comments