Clickbait #1: Sylvester Stallone goes to jail?
The Internet is starting to get more and more polluted with lies and half-truths masquerading as truth. I've decided to highlight some of the more egregious examples. 
This one comes to us from Facebook: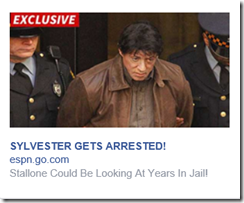 Clicking the link takes us to a story that's really an advertisement for AlphaFuel:
Sylvester Stallone Charged With Importing Human Growth Hormone Into Australia

(ESPN) -- Movie mogul Sylvester Stallone gave a confusing response Sunday when pressed to explain his charge with importing HGH into Australia, first calling the reports "Complete Trash" and then stating the only substance he ever took to Austrailia was a supplement called AlphaFuel. The problem with his response? It's not a complete denial.

While denying using HGH, he's admitting to using a supplement that the movie networks consider adding to the list of prohibited substances starting next year.

There is no doubt that Sylvester Stallone will go down as one of the most ripped movie stars to ever be in the business, but many critics believe his use of AlphaFuel and AlphaCut will jeopardize his roles in new movies. ...
And now the facts:
1. On March 12, 2007, Stallone was arrested in Australia for illegally importing HGH. He was there to promote Rambo IV.
2. Stallone pled guilty. Later he even went on the Today Show to explain that he took HGH to help him recover more quickly after strenuous movie roles.
My questions are:
1. How the hell does this get added to Facebook as an ad?
2. When is ESPN going to sue this company? Clicking every link goes to more stories about AlphaFuel.
When you click on those links, you get this suspicious dialog box:
3. Why is a company like this in business with this kind of fine print?
*Representations regarding the efficacy and safety of Alpha Fuel have not been scientifically substantiated or evaluated by the Food and Drug Administration. Click here Tribulus Study 1 | Tribulus Study 2 to find evidence of a test, analysis, research, or study describing the benefits, performance or efficacy of TestoXTRM based on the expertise of relevant professionals. Our products are not intended to diagnose, cure or prevent any disease. The information provided by this website or this company is not a substitute for a face-to-face consultation with your physician, and should not be construed as individual medical advice and/or health related advice. The testimonials on this website are individual cases and do not guarantee that you will get the same results. This product is not for use by or sale to persons under the age of 18. This product should be used only as directed on the label and after consulting with your personal physician. This product should not be used if you are pregnant or nursing, you should consult with your physician to determine any risk associated with taking this product. Consult with a physician before use if you have a serious medical condition or use prescription medications. A Doctor's advice should be sought before using this and any supplemental dietary product. Individual results will vary.
posted by AndyO @ 11:58 AM
0 comments