Year in Review: 2013 - Part 2
This is part two of my "year in review" for 2013. This covers July - December.
July and August: Weddings, Rush, Vancouver, Yellowstone, and more
My brother-in-law Brian got married to his longtime sweetheart Stacy in a picturesque outdoor ceremony in Mt. Vernon. I was the official videographer, so I enjoyed an "all access pass" to all the festivities, including being right next to the ceremony. Here's a nice casual photo of Brian and Stacy in between photos. Congrats to Brian and my new sister-in-law Stacy!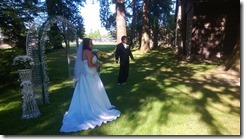 Rush in Vancouver
As luck would have it, Rush scheduled their summer tour stop right in the middle of my family vacation (this is the second time this has happened!). But I figured out a way to see them in Vancouver right before we headed off on a long, car vacation to Yellowstone. It was my last show on the Clockwork Angels tour, and Cameron and I had a great time.
Read more about this trip here.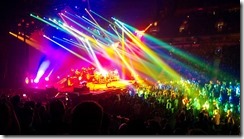 Summer Vacation
Cameron and I drove home from Vancouver on Saturday morning (which took us around 4 hours due to the border delays -- instead of 2-1/2 hours). After a short rest and more packing, we grabbed Brenda and Drew, and drove off to Spokane, WA, on the first leg of our summer vacation. There were three phases to this trip:
Olson family reunion in Big Sky, Montana, and visits to Yellowstone park
Jackson Hole, Wyoming
The trip back to Seattle: A visit to my childhood home of Idaho Falls, Craters of the Moon, Boise, and finally my parents' house in the Tri-Cities (Camp Olson!)
There's simply too much to recount here, but here are some of my favorite images/moments in Yellowstone Park:
Artist point: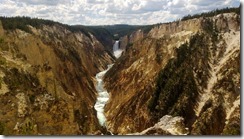 Mammoth Hot Springs: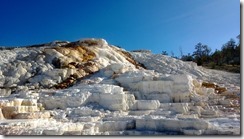 Norris Basin at sunset: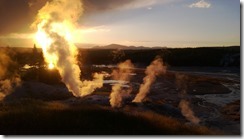 Read more about our Yellowstone trip here
August
We visited Stehekin, WA. You can read more about our trip here.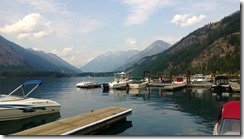 October: The Dogs and Halloween
The Winery Dogs
I had a chance to see one of my favorite drummers Mike Portnoy play with his band, The Winery Dogs, at the intimate Crocodile Cafe. As if that wasn't enough, I had an opportunity to interview Mike before the show!
Read my interview with drummer Mike Portnoy.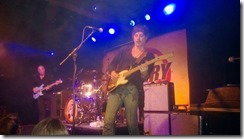 Halloween
Drew and his friend Ben trick or treated through our neighborhood in Seattle. At one point, even Drew's big brother Cameron joined in. Everyone scored in the candy department. Here's a photo of Drew and Ben in costume (Jango Fett meets a Minecraft Creeper).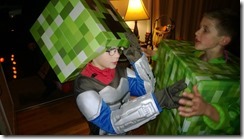 November: New drums, big news, and Thanksgiving in Seattle
For all his life, Cameron has been playing my drums. Now that he's stuck with the drums for a while, including his third year playing in the Jazz band at his middle school, I thought it was time for him to get his own set. So we went to Guitar Center and bought a beautiful Gretsch Catalina Jazz kit, and set it up in the packed drum room among the books, three other drum kits (two set up, one not), speakers, various snare drums, mixers, cords, and much more. But he loves his kit. Here he is not long after we set it up: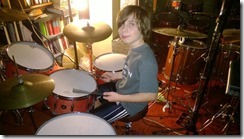 Thanksgiving by the Bay
This year we stayed in Seattle for Thanksgiving, and for various reasons we ended up eating dinner at McMormick and Schmicks on Lake Union. It was a lot of fun and a great view. Over dinner my sister Kristen shared her big news with Cameron and Drew that she's having a baby in Spring 2014. Here she's showing them the ultrasound picture of their cousin, who will be another Olson boy!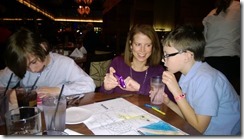 Congrats to Kristen and Dale!
December: Snow, Christmas, and New Year's eve
The week before Christmas, we had a rare dusting of snow in Seattle. For those of you used to major snowstorms, this might not seem like much. But any snow in Seattle is a big deal, due to all the hills and the lack of equipment to deal with it. It was just enough for Cameron and Drew to A) stay home from school and B) build a snowman. Then, less than 24 hours later, the snow was all gone. Cameron and Drew took it personally.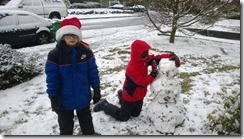 Christmas in the Tri-Cities
This year we joined my brother and sister and their spouses for a nice celebration in the Tri-Cities. My parents have lived in the same house since we were kids (although it has been remodeled), and we all wanted to get together again before they move out in the future. Cameron and Drew (the only grandchildren for now!) got a lot of presents. They loved them all so much, they didn't take off their pajamas or leave the house for two days.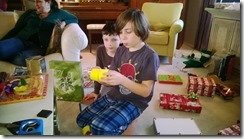 Labels: Year in review
posted by AndyO @ 9:14 PM
0 comments