Rush in Vancouver B.C. - Day 1 - July 25, 2013
For the second time in two years, Rush brought the Clockwork Angels Tour to the Pacific Northwest. In November 2012, they'd played downtown Seattle at Key Arena; but this time around, they were playing Vancouver B.C. (Friday) and the Portland, OR, area (Sunday).
Being the Rush fan I am, I usually try to see all the shows in the area. But I was leaving for a family reunion in Yellowstone on Saturday, which meant I could only see the Friday show. My 13-year-old son was also going with me, so I decided to extend the trip into a few nights, instead of driving up and back in one day. (I was also wary of crossing the border on a Friday.)
With our plan in place, Cameron and I set off to Vancouver around 7:00 p.m. on Thursday, a 2-1/2 hour drive.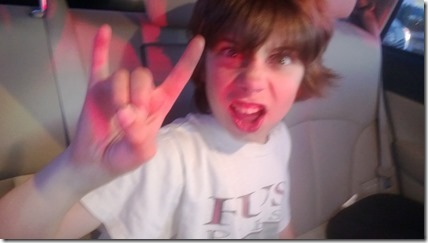 It was a perfect night for traveling with clear skies and light traffic -- until we got to the U.S./Canadian border. Since we were driving on Thursday (and not Friday), I was expecting 15-30 minutes to cross into Canada. But it took over an hour.
At least the view was good: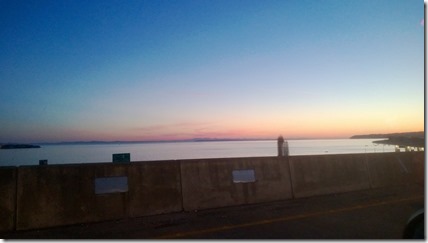 After crossing the border and driving for a little while, I looked in my rearview mirror. There I saw the moon peeking over the horizon, red and ominous, like the Eye of Sauron.
This isn't my photo (after all, I was driving!), but this is what the moon looked like (thanks to Luis Argerich for taking this one):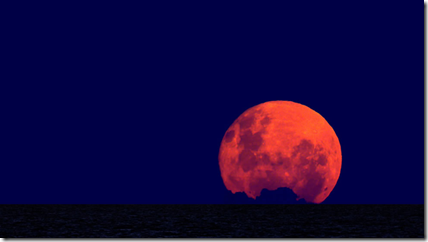 Arriving in Vancouver: Sheraton Wall Center disappoints
We arrived at our hotel around 11:00 p.m. after 4 hours in the car. As we climbed the escalator to the main lobby, we heard the strains of Latin piano drifting from the bar, accompanied by a rhythm track. A few older couples were dancing smoothly. Cameron noted how "everyone is dressed up in fancy clothes."
We had to wait to check in, as only one person was working at the front desk (and the man in front of us was asking a lot of questions). Finally, it was our turn, but as we were checking in the woman at the front desk said, "Your room with one king bed is in the south tower -- "
"Wait, didn't I book two beds?" I asked.
"You did, but I don't have any rooms left with two beds. Also, Mr. Olson, it is after 11:00 p.m."
Even though she was right (I was arriving at 11:00 p.m.), it was almost comical to hear this tone coming from someone in the hospitality industry. I think she must have realized how she sounded, as she said we could call the next day to check for an alternate room.
After that, we went downstairs again to get our bags and waited for another five minutes for the valet (a long time when you're really tired). Then we walked to the "south tower," which meant going back up the escalator and walking about 100 yards.
Once in the south tower lobby, we waited five more minutes for an elevator (due to a large crowd). On the sixth floor, we walked though a labyrinth hallway to our room.
But our key didn't work.
As I kept trying the key, doubt started to creep into my exhausted mind that we were in the right place. I pictured a couple waking up in their king-size bed, wondering who was trying to break in. So I decided to haul all our bags and weary bodies to the south tower lobby again.
I didn't see anyone to ask in the lobby, so I went outside to interrupt the valets wearing fancy hats in the midst of an important midnight conversation. They looked at my key and verified that we were indeed in the right place -- then went back to their important conversation.
Back at our room, the key opened the door. As we unpacked and settled in, I realized how much I yearned for hospitality and customer service after a long day of travel. And I if I'm paying over $300 (U.S.) per night, I kind of expect that level of service. (I would find out later through reviews on Expedia that many people reported similar experiences at the Sheraton Wall Centre -- even though it averages 4 out of 5 stars.)
Cam and I went to bed around 12:30. He fell asleep right away, but I was up until around 2:00 a.m..
For some reason, Vancouver is one of the loudest cities -- especially when you're right across the street from an emergency room. I cranked the air conditioner to try to drown it out, but it still sounded like periodic battles on the streets below.
Labels: Rush, Travels, Vancouver B.C.
posted by AndyO @ 11:32 PM
0 comments