NYC - Day 1 (Friday)
I traveled to New York with Monica Z to see my favorite drummer Neil Peart. He was playing at the Buddy Rich 2008 Memorial concert with a few other notable drummers, including Terry Bozzio, Chad Smith, Peter Erskine, and Tommy Igoe. As I'd told everyone before I left, it was a great excuse to see New York City for the first time.
Mid-morning flight
My friend Monica, with whom I'd shared many Rush-related journeys, flew out mid-day. This meant I could take the kids to school before driving to the airport. I parked in my favorite lot, went through security, and walked what seemed like a mile to the Delta Airlines gate at Sea-Tac.
The first thing I noticed out the window was a guy barbecuing chicken on the tarmac, and I wondered if this was a Friday tradition for the Delta employees. Monica arrived not long after I did, and we walked off to a sandwich shop to get something to eat on the plane (instead of just peanuts).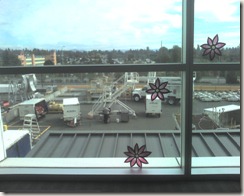 We boarded the plane on time and took off for the 5-hour flight. Monica told me one of the reasons she'd booked us on Delta was because they had LCD touchscreens on the seatbacks, and you could play a trivia game against all the other passengers. We must have done this for hours, which made the flight go by pretty fast. I also watched some shows I'd downloaded to my Zune, including The Office and 30 Rock.
Sitting at JFK
Once we landed (early, I might add) we sat on the tarmac for what seemed like hours. Someone on the plane had told us JFK is famous for huge delays. In this case, our plane had nowhere to go; we were early, and our gate was occupied. This wouldn't have been so bad, but my back was killing me, and the plane was a balmy 80-degrees (we thought it might be all those video screens).
First NYC cab ride
Once we finally departed the plane, we went in the direction of "transportation" and walked up to a cab sitting at the curb. The driver pointed us to the cabstand, where they systematically dispatched waiting cabs. The cabstand dispatcher wrote down our destination and handed it to the cab driver, who I think was Russian. He didn't know where the Jamaica Super 8 motel was, but he pulled out a map and figured it out.
The interior of the cab surprised me, as I think my expectations came almost exclusively from the movie Taxi Driver. First, it was spotless. And there was an LCD TV showing advertisements and information on the divider between us and the driver. I was also surprised that you could pay by credit card from the back seat.
Our actual drive reminded me of another movie, Gotcha!, where two Americans are driven through the streets of Paris at Mach speeds. Our driver might not have been driving that fast, but let's just say the back of the cab felt like a rollercoaster when he drove around corners. I hung on to the straps for effect.
Jamaica Super 8 and Wendy's
Once we checked into the Super 8, we went out into the cool Queens night to Wendy's. While we both wanted to eat at a more "local" establishment (the guy at the hotel had suggested an Indian/Italian restaurant) we were too hungry to look around.
In Wendy's, I noticed a few things:
The people in the restaurant were more diverse than the types of people you see in Seattle. There were guys in sharp suits, guys wearing Hip Hop clothes, and NYPD officers on break. Monica and I must have looked like we had "out of town" stickers stuck to our foreheads, though people didn't treat us that way.
The menu displayed the calories of each item so that you could clearly see that, say, the fried chicken strips were way over a thousand calories. This made me feel so guilty that I ordered a salad (and a Jr. bacon burger).
I knew that New York had some interesting laws about banning transfats, but I hadn't heard about the calories being displayed so prominently on menus (we would find out later that this was on all menus).
While we were eating, I noticed that one of the police officers had a key chain attached to his belt with probably 200 keys. Monica and I tried to figure out why they would need all those keys. I didn't feel like asking.
After that, we went back to the motel and relaxed. I looked out the window. Across the street, all the houses had bars across the windows. Up the street, stores had bars or steel garage doors that closed over the entrance.
We weren't in Seattle anymore.
posted by AndyO @ 12:54 AM
0 comments