Tri-Cities - 7/31 - 8/2
Over the weekend, we traveled to my parents' house in the Tri-Cities. We drove over on Friday night, leaving behind 100 degree temperatures in Seattle, and arrived to 90 degrees in Richland at 8:30 p.m. As soon as the kids got out of the car, they were in the pool. After I unloaded the car, I was in there, too.
The next day we needed the pool more than ever, as the temperature shot up to 110 degrees! I invited a friend from high school, Jennifer, and her two kids to swim, too. Jennifer and I hadn't seen each other since the last high-school reunion, many moons ago, so it was fun to catch up.
Her two kids, Sarah and Jack, put on an acrobatic display of diving as we baked in the shade.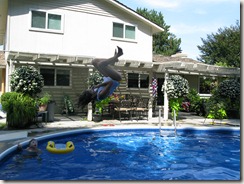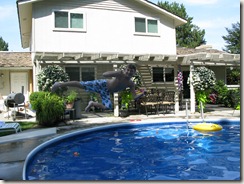 Even Cameron, who wasn't even jumping off the board until about a month ago, got into the act: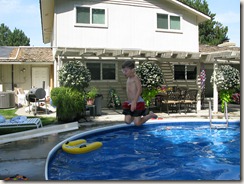 After lunch, Jennifer and I also got in the pool to cool off. At one point I started giving scores to the dives. When I gave Sarah a 9.4, she asked, "What do I have to do to get a 10?"
Jennifer answered, "Lose the attitude!"
Rocko the barking dog
My parents' dog, Rocko, a Gordon Setter, always gets upset when anyone steps one toe on the diving board. My Mom says he does it because he's nervous and doesn't want anyone to get hurt. But after a while, it gets really old. My Mom ordered me to throw Rocko in the pool to get him to shut up.
I was only too happy to comply.
But then something really interesting happened after Rocko got out. I don't know if any of us would have caught it, but Sarah (The Dog Whisperer) noticed that Rocko wanted to get back in the pool. She gave him a few words of encouragement, and he jumped back in. Perhaps Rocko was just trying to tell us he wanted in the pool?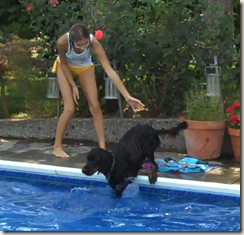 Anniversary dinner
After Jennifer and the kids left, my parents watched Cameron and Drew so Brenda and I could go out for our anniversary. When I asked Brenda where she wanted to go, she said "Target." Without our kids, we've found that shopping becomes almost peaceful. Pretty sad. While Brenda walked around the store, I stayed in the movie area, trying to decide on all the cheap Blu-rays they had.
After our peaceful shopping, we drove to Richland to Anthony's Home Port on the Columbia River. The wait time was 45 minutes, but we went into the bar and decided to stay there (again, something you really can't do with kids).
I ordered the steak and Brenda ordered a salad. The food was excellent. But it's interesting how after a long wait time, I get antsy near the end of dinner. We talked about going for a walk on the river, but it was still pretty warm outside -- and we'd done enough sweating for the day.
We decided to go home and try to get the kids to bed at a reasonable time (Drew had fallen asleep around midnight the night before).
Labels: Travels
posted by AndyO @ 11:03 PM
0 comments