Oahu - Day 1
For our 20th wedding anniversary, Brenda and I are taking a trip to Oahu, Hawaii. This is the first week-long trip we've taken without Cameron and Drew, who are enjoying a week with Grandma and Grandpa Olson. (Thanks Mom and Dad for watching the boys, and thanks Cameron and Drew for giving your Mom and Dad some time together.)
Adventures on the plane
Everything started off great. We made it to the airport with plenty of time to spare. Had a little extra time to get some breakfast.
Once in our seats on the plane, we were accosted by a woman who said Brenda was sitting in her aisle seat. So Brenda went to the window, and the woman sat in the aisle seat. But then Brenda got curious, because she knew she'd booked the aisle and the middle seat. She figured out that the woman was indeed wrong. So Brenda asked her to move. And the woman made some comment that she was fine on the aisle. But we made her move. She never even said sorry about the mix-up.
Amazing how grown people can act like children sometimes.
Two other interesting facts about our flight:
The Seattle Pacific University (SPU) women's volleyball team was on the plane with us. (There were some seriously tall girls in that group!)
There were two dogs on the flight. One of them was yapping at the beginning, but then shut up (tranquilizer?).
Other than that, the flight was smooth -- with some turbulence during the last hour. Flying into Hawaii can sometimes be pretty rough, so I was amazed that the pilots were able to set the plane down as smoothly as they did. Even the flight attendants commented on the great landing.
Honolulu
When I stepped out of the air conditioned airport, I felt the a wave of moist tropical heat was both shocking and comfortable. After picking up the rental car, our first stop was the awesome Snorkel Bob's in Honolulu to rent snorkel gear for the week. (Snorkel Bob's always has the most friendly, knowledgeable staff.)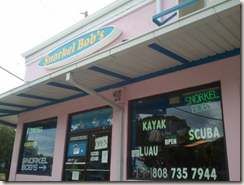 Next, we experienced the legendary Honolulu traffic at 2:00 in the afternoon (although it was nothing compared to Seattle traffic).
The road to Kahuku (the North Shore)
We headed off on highways 63 and then 83 across the island, blasted periodically by tropical bursts of rain. Jagged, prehistoric peaks towered on one side and the ocean on the other.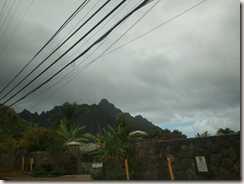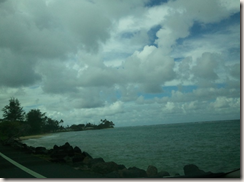 After seeing a few places offering Island cuisine, Brenda found a place called Uncle Bobo's Smoked BBQ in our Oahu Revealed book.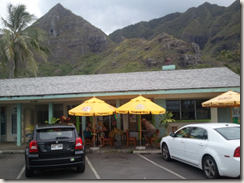 The beef brisket and BBQ sauce was nothing short of heavenly (especially on an empty stomach). Brenda and I devoured it.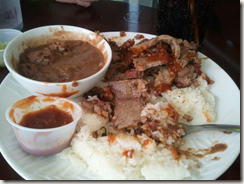 Back on the road, dozens of shrimp shacks beckoned us to pull over once again. We resisted. Around 4:15, we finally arrived at Turtle Bay Resort -- our hotel for the next four days.
We checked in, and went up to our room. There we were greeted with an amazing view: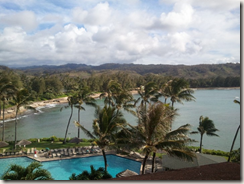 The only problem was it was right next to the pool (and a bar) -- and just wasn't exactly what we were looking for (think rolling ocean waves). The hotel was able to move us to another room that was exactly what we were looking for. Thanks for doing that, Turtle Bay Resort!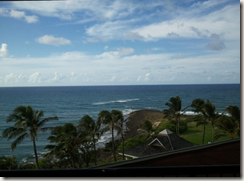 posted by AndyO @ 11:01 PM
0 comments